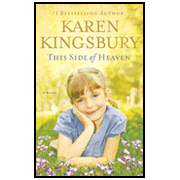 Here is another excerpt from the book This Side of Heaven
"Grandpa Ted told me sometimes things don't go the way we want this side of heaven."
"That's true.... This side of heaven can be pretty sad sometimes."
"So here's what I want to know.... How do I get to that side of heaven?"
"If only there were a wak to make it happen."
"Grandpa Ted said there was.... He told me if I loved Jesus, then one day I'd go to heaven, too. So, then I'd be on that side with my daddy."

Praise God that this is not the end!

View this book at: Amazon
or
www.christianbook.com
When Life Hurts
Life is moving along just as you planned. Life is good. You are happy. In general, the expectations that you have for life are uninterrupted.

Suddenly, everything that you held true is questioned. Plans are put on hold or stopped. Whether it is in the death of a loved one, health issues, or something else, you find yourself somewhere that you never dreamed you would be. Life is filled with interrupted expectations - those circumstances that you didn't see coming.

This blog is dedicated to those who are hurting and those who desire to help the hurting.


Topic Categories
Grab Our Button

<a href="http://interruptedexpectations.blogspot.com" mce_href="http://interruptedexpectations.blogspot.com"><img src="http://i419.photobucket.com/albums/pp273/fspam/iebuttonlg.jpg" Mce_src=http://i419.photobucket.com/albums/pp273/fspam/iebuttonlg.jpg" border="0" alt="Interrupted Expectations">