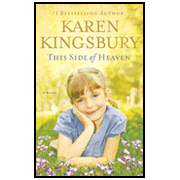 I just finished reading a newer book by one of my favorite authors - Karen Kingsbury. Whenever I start a new book, I ignore the back synopsis because I don't want to know anything about the plot of the book.

This Side of Heaven
threw me for a loop. What I wasn't expecting was so much wisdom on life's interrupted expectations.


"Wondering is part of life. As long as it doesn't keep you from living."

Why is it that we spend so much time wondering that we can actually stop living. The "what if's" of life can strangle healing. This quote goes right along with the book of Job in the Bible. Ask God why, but don't stop living.

View at: Amazon
or
www.christianbook.com
When Life Hurts
Life is moving along just as you planned. Life is good. You are happy. In general, the expectations that you have for life are uninterrupted.

Suddenly, everything that you held true is questioned. Plans are put on hold or stopped. Whether it is in the death of a loved one, health issues, or something else, you find yourself somewhere that you never dreamed you would be. Life is filled with interrupted expectations - those circumstances that you didn't see coming.

This blog is dedicated to those who are hurting and those who desire to help the hurting.


Topic Categories
Grab Our Button

<a href="http://interruptedexpectations.blogspot.com" mce_href="http://interruptedexpectations.blogspot.com"><img src="http://i419.photobucket.com/albums/pp273/fspam/iebuttonlg.jpg" Mce_src=http://i419.photobucket.com/albums/pp273/fspam/iebuttonlg.jpg" border="0" alt="Interrupted Expectations">