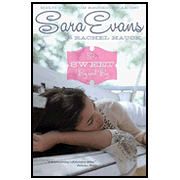 The Sweet By and By
Combine an upcoming wedding, a hippie mom, and a haunting past. A beautiful story of forgiveness is created.
I was sorry that I started the book
The Sweet By and By
over the Christmas season because all I wanted to do was read! Authors Sara Evans and Rachel Hauk drew you into the book with luring descriptions and emotions created on each page. About the time that I felt I had the ending figured out, a new twist to the plot occurred for the main character, Jade.
In a
past post
, I quoted this book. Many more blogs could have been written because this novel is filled with Interrupted Expectations. Unlike the typical current Interrupted Expectations written about on this blog, Jade learns to deal with past hurts. Items that she and her fiancé agreed to leave in the past and not mention – every. Traveling life's journey, the "back-burner" experiences always boil up.
This is a book that needs to be read. But, I want to preface that statement with – this could be a very difficult story to read for people who have had similar circumstances in life. The amazing thing is that through all of the emotions that this book evokes, you too can find God's love and forgiveness.
Momma C Rating:
View at:
Amazon
or
Christianbook.com