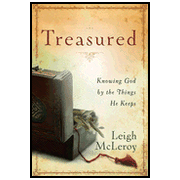 Treasured: Knowing God by the Things He Keeps

By Leigh McLeroy / Random House, Inc


* If God had a box of souvenirs to remind him of things that matter most, what would it hold? Blending personal stories with Scripture, McLeroy examines the mysteries of heaven through tangible symbols of God's goodness, grace, and mercy---a fig leaf from Eden, Hagar's waterskin, a blood-stained strip of fabric . . . .
As I read the book Treasured: Knowing God by the Things He Keeps
, I knew immediately that this book needed to be put on the Interrupted Expectations website.

Grief has a way of monopolizing itself. You feel overwhelmed in every area of your life. It is easy to feel like the world is falling on top of you. Leigh McLeroy opens your eyes to the little treasures that God gives us each and every day. As I read the book, I felt the layers of yuck peel off as I climbed out of a pit of lies. I was reminded of God's love for His "most precious possession" - me!

With thirteen short chapters, this book can be used as a personal devotion or group discussion. It even includes discussion questions and scripture to help you dig deeper. McLeroy uses similes and metaphors like I have never read before. The imagery comes to life on each page. This is not a deep book. The message is very simple. So grab a cup of coffee and allow God to show you that you are His precious possession and climb out of that pit of lies.

This book was provided to me for review by the WaterBrook Multnomah Publishing Group.