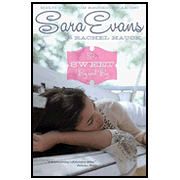 The Sweet By and By
I was asked to review the new release
The Sweet By and By
written by author and recording artist Sara Evans. Although the entire review will come later, I was struck by a conversation two characters in the book have.
"I can't imagine what angst exists between you and your mama. Were you abused? Pardon my frankness."
"No."
"My granny, bless her soul, used to say, "Whatever ill you have against someone isn't worth sending the Lord Jesus back to the cross."
"I don't even know what that means...but I am not sending Jesus anywhere."
"It means Jesus' love and forgiveness is sufficient for any wrong or voilation done to us, Jade. Don't you think it's powerful enough for you and your mama? This I do know...you need to forgive your mother for whatever it is that she did to you. Belive me, holding a grudge does nothing but deepen and widen your hurt."

This lead me to think about a situation in my life right now. I am mad at God that we have to deal with it. But who is my anger and bitterness hurting? Me. All it does it provide a road for satan to entire my thoughts.
As Christmas is around the corner, we are all thrown into situations with people who have hurt us. We have expectations as to what a family should be. We have expectations of how the holidays should go. We gave expectations of how people should act. But life throws us yet another Interrupted Expectation.
People do and say some really stupid things. Feelings get hurt and walls get built. But is it worth "sending the Lord Jesus back to the cross"?
View at:
Christianbook.com
or
Amazon